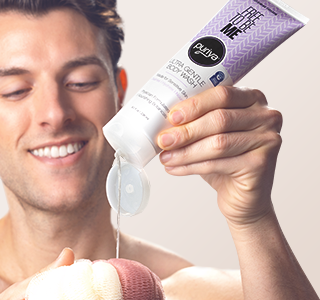 Feel The Yahhhhh!
Of Puriya On Your Skin
We Keep It Clean
And Say No To
Plant Based Ingredients
+ Science-Backed Formulations
Plant-Derived Cleansing Agents

Plant-Derived Cleansing Agents

(Surfactants)

Plant-Derived Cleansing Agents

(Surfactants)

The Gentlest Cleansers

Many cleansers use harsh sulfates, such as sodium lauryl sulfate, which can irritate skin. We never use sulfates. Instead, we use the gentlest cleansers: sodium cocoyl glutamate, disodium cocoyl glutamate, coco-glucoside, derived from coconut and other plants. These gently create a low-lather foam and give our body wash a silky feel — soothing and hydrating instead of stripping natural oils from skin.

Oat Kernel Flour and Extract

Oat Kernel Flour
and Extract

Oat Kernel Flour and Extract

Soothing, Nourishing Duo

Two gentle ingredients derived from oats work in harmony to soothe skin and help it maintain moisture, creating a smoother, more even appearance. Oat kernel flour and extract lessen the appearance of irritation, and roughness, leaving skin more comfortable and attractive.

Gotu Kola

Gotu Kola

Gotu Kola

Collagen Enhancer

Gotu Kola is an adaptogen that has been used in skincare in China for thousands of years. It helps smooth the texture of skin and is a unique source of centellosides including asiaticoside, madecassoside, asiatic acid and madecassic acid.

Kelp

Kelp

Kelp

Ultra Hydrator

Kelp is a marine algae loaded with vitamins, minerals, fatty acids, and nourishing ingredients. Its hydrating effects calm the appearance of sensitive skin while helping to lock in moisture.

Calendula

Calendula

Calendula

Flower Power

This soothing plant extract gives gentle cleansing support to visibly improve the texture of upset skin. Calendula nourishes and soothes sensitive skin for a radiant looking complexion.

Goldenseal

Goldenseal

Goldenseal

Natural Rinse

This powerful root has a long history of beneficial uses both in traditional medicine and by the Native Americans. Known for its soothing, mild cleansing properties, this harmonizing and calming plant is naturally rich in berberine and other phytonutrients.
Free To Be Me
Ultra Gentle Body Wash
ALL INGREDIENTS
Water, Coco-Glucoside*, Glycerin**, Disodium Cocoyl Glutamate**, Sodium Cocoyl, Glutamate**, Avena Sativa (Oat) Kernel Flour, Camellia Sinensis (Green Tea) Leaf Extract, Calendula Officinalis (Calendula) Flower Extract, Centella Asiatica (Gotu Kola) Leaf Extract, Avena Sativa (Oat) Kernel Extract, Hydrastis Canadensis (Goldenseal) Root Extract, Macrocystis Pyrifera (Kelp) Extract, Xanthan Gum Levulinic Acid, Sodium Anisate, Citric Acid. *Derived from coconut **Derived from plant sources
Free To Be Me
Ultra Gentle Body Wash
Gently yet thoroughly cleanse

Comfort sensitive and eczema-prone skin

Soothe dryness and itching

Intensely hydrate
FAQs
What is the "Wash and Seal" routine?
After using the wash, we advise that you "seal" in hydration by applying a moisturizer directly after your shower. This helps to lock in hydration and helps your skin retain moisture. We recommend that you follow-up your routine with our Mother of all Creams, which is designed for sensitive skin. Our Mother of all creams comes in 2 different variants, the Light Peppermint with subtle essential oils and the Mildly Earthy with no essential oils for ultra-sensitive skin.
How do I use it?
1. Dampen the skin with warm water (not hot which can be irritating and drying).
2. Put a small amount of the wash on your hands and then glide a thin layer on your skin.
3. Applying more won't change the results, a thin layer is enough.
4. Rinse with warm water and follow up with a cream to hydrate and lock in moisture.
Why does it only lather moderately?
We chose to avoid surfactant ingredients that have a high lather because they can also be more irritating on the skin. Our Ultra Gentle Body Wash removes sweat and excess oil while hydrating and supporting the skin's natural microbiome. In addition, our wash does not contain sulfates, parabens, or artificial fragrances. Many people associate cleansing the skin with heavy lather, but that's actually not the case.
Is this cream good for darker skin?
Our hydrating moisturizer is ideal for all skin types and is formulated to be extra gentle on sensitive skin. Because each person is unique we do recommend you always do a patch test on a small area of skin before applying it all over.
Should I patch test my skin?
Yes, we have formulated our Ultra Gentle Body Wash for the most sensitive skin but we always advise that you patch test a small area of your skin before a full application because everyone is different.
What's inside?
Soothing and nourishing botanicals including oat, calendula and kelp, antioxidant-rich green tea, and purifying & skin supportive plants like gotu kola leaf and goldenseal root.
Is this good for irritated skin body wash?
Our Ultra Gentle Body Wash was designed for sensitive skin and has been awarded the National Eczema Seal of Acceptance. We chose calming and nourishing ingredients suitable for people with dry, itchy, sensitive, and eczema-prone skin.
Spread The Love
#puriyabrand
Want to be featured in our gallery? HASHTAG YOUR INSTAGRAM PHOTO #puriyabrand
When Ancient Wisdom Meets Modern Science...
Meet Our Science Board: We have gathered up a brilliant team of women physicians with impressive backgrounds, extensive clinical k nowledge, and world-class education to share their insights and expertise with us. Their specialties include integrative dermatology, sports medicine, clinical nutrition, medical herbalism, naturopathic medicine, and Ayurveda.
We grew up in Taiwan, raised on our mother's and grandmother's botanical formulas to ensure we were enjoying optimal health and wellness. However, after moving to America, we couldn't find safe and natural solutions that worked well and met our expectations.
We wanted to develop effective, botanical, science-backed solutions for ourselves, our family and our friends. This is why we began a long journey to formulate effective, plant-based products that are gentle enough for long-term use.
From topical formulas to supplements, Puriya has helped over 1 million families since 2015 and we look forward to helping more.
Learn More
Yi-Jen and Jill
Sisters and Co-founders of Puriya